11 IoT Home Entertainment Projects You Can DIY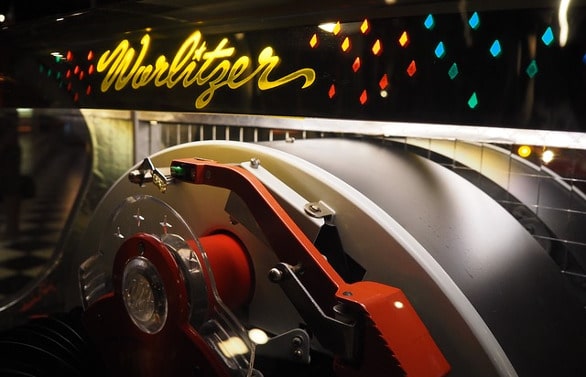 So you're looking for some cool DIY IoT home entertainment projects to pimp-out your home?
In this post I will cover some of what I think are the best ideas to truly bring out your creative mind and in the process, have something cool to show off to your friends and family.
Are you ready? Let the games begin!
1. Home Entertainment Arcade Machine
Nothing screams "home entertainment" more than your very own arcade machine.
whether you're a casual gamer or a full-blown addict, there's something here for everyone when it comes to arcade machines for the home.
I don't think I need to convince anyone that this project is well worth creating.
If you're interested in building your very own DIY arcade machine then I've created a post just for you here.
If, like me, you love your music then how about a jukebox that plays your digital music collection!
How about adding some internet radio.
You could take the route of either modifying an original jukebox or you could create something entirely from scratch.
Jukeboxes are not cheap to buy even if you manage to get hold of a broken second-hand machine then building the unit from scratch would be the cheapest option here.
I've been thinking about designing this unit to look like the jukebox in the image above, although I'm not quite sure how the rounded top would be constructed at home.
3. Home Entertainment Centre
If you haven't heard about Kodi then, first of all, where have you been?!
Kodi makes an excellent home entertainment system and I see many people install this on a Raspberry Pi.
If you were to construct this unit then I wouldn't recommend a Raspberry Pi, at least anything older than a Raspberry Pi 4 as these units don't seem to be up to the job in my experience.
If you're willing to shell out more then I would recommend a single board computer such as an Odroid.
Keep your guests entertained with this mini drinks bar!
It's possible to create or download a smart phone app to select your desired drink.
Then we can setup a single board computer such as a Raspberry Pi or a microcontroller board such as Arduino to mix and make your drink of choice.
Cocktail App
A while ago i created an Android app called "Cocktail Recipes" (Available on Amazon here) and it's possible to use a similar app to communicate to the drinks machine via bluetooth or Wifi for example.
The below screenshots shows my "Cocktail Recipes" app.
Now imagine serving your guests a cocktail via this automation project.
If you would like to create your own Android app for free with little coding experience then check put my post on Kodular here.
I first came across this idea over on the Arduino project hub and here is a link to some ideas on how to create your own DIY Nerf sentry turret!
This DIY project would be an excellent choice if you have kids running around the home and want to keep them entertained.
Who doesn't love nurf guns?
Especially when it can be programmed and automated to follow you around the room and unload on you at any time.
6. Snacks Vending Machine
Who doesn't want their very own vending machine at home?
Again this is an excellent project for kids and it's entirely your choice if you want this project to be coin operated or not.
It would also be possible to set a time limit or other restrictions on how often the machine gives out snacks and drinks.
Like the arcade machines I mentioned above, this vending machine would require some cheap building materials such as MDF wood and perspex.
Also a jigsaw would come in very handy here and after adding some cool looking vinyl decals then this IoT home entertainment project would bring any home alive.
If your dog doesn't love you enough already then this home entertainment project would go down a treat with your pet.
Throwing a chew or a ball is fun for your dog so why not make it fun for you too.
You could construct a throwing machine that will give you both hours of fun.
Maybe a project for the garden if you don't have much throwing space in your home!
8. Hamster Odometer With Gamified Reward System
Okay, I must admit that this project is very cool indeed.
How about creating a gamified hamster wheel odometer!
It could work like this:
Every meter that your hamster runs on it's wheel would equal 1 point. The system tracks a 24 hour duration for a personal best. When the hamster scores a personal best it is then rewarded with a treat.
It could be designed for an hourly and weekly personal best too.
An LCD readout could be displayed for you and show your hamsters current score.
Laser Quasar is a very fun game to play and so being able to pick-up and play at home whenever you feel like it would keep anyone entertained.
There's so many possibilities with this project.
You could go all-out with wearable suits with built-in sensors and LED's or create a simple unit like the one in the image above.
How about adding some cool sound effects and create an ultimate gaming experience.
Check out this cool automated robotic air hockey table at Arduino.cc.
Playing against a robot controlled player, it's possible to change the robots skill level from a touch screen that's built directly in to the table.
Now you don't even need to invite your friends round as you can spend all night playing air hockey against a very efficient, and worthy opponent.
11. Table Top Board Games
Arcade1Up recently released a table top board games system which uses a touch screen monitor housed into a frame with legs.
Games such as Monopoly, Snakes & Ladders, Chess and card games can be played on this amazing gadget plus so many more.
Why not recreate this cool entertainment center and invite your friends round?
This was my top list of DIY IOT home entertainment projects that you can build yourself at home.
I hope I've given you some good ideas on what to construct for your next cool project at home.