14 Best STEM Construction Toys For 10 Year Olds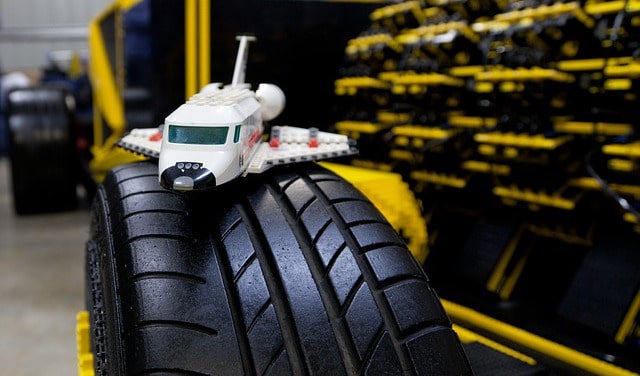 Affiliate Disclaimer: "installtekz.com is supported by it's readers. Please assume all links are affiliate links. If you purchase something from one of our links, we may make a small commission from Amazon or other third parties. It helps us pay for the running of this website. Thank You"
Are you looking for the best STEM construction toys for 10 year olds?
I asked myself this question not so long ago as I have a 10 year old son myself called Kaden who just can't stop playing video games!
Thinking to myself: "How can I get him off the computer, learn something useful and be entertained all at the same time?"
And so I set out to find him some cool STEM (Science, Technology, Engineering, Mathematics) construction toys for us both to build for the holidays this year.
It's not an easy task to find a toy that's not too advanced for a 10 year old and at the same time, not too childish.
This is my top 14 picks from Amazon that I know I stand a fighting chance to impress my 10 year old son with.
14. Lego Mindstorms EV3 Robot Kit
The Lego Mindstorms EV3 robot kit will give your 10 year old experience in both physical construction and software developing.
A mobile device will be needed to download the app.
The app allows us to piece together software programming components and ultimately control the robot from the app.
I would expect this kit to keep anyone entertained for more than 5 minutes with 601 pieces and a possible 17 robot designs to build from.
I'm sure hours could be spent here alone simply experimenting with writing code to control the electronic components!
The Lego Mindstorms EV3 Robot Kit can be purchased from Amazon.com here
13. 3-In-1 Building Kit: RC Car, Robot & Tank
This is a remote controlled vehicle with a difference. This kit must be constructed from the 329 supplied pieces to build one of three models.  
An all-terrain robot, tank or car can be built with tracked wheels to make it possible for off-road driving.
Having three possible models to build is what gives this kit the fun-factor and potentially make it last for hours on end.
If the fun starts wearing off for your 10 year old then they can simply break it down and build another vehicle!
The 3-in-1 Building Kit can be purchased from Amazon.com here
12. STEM Physics Building Set
This science kit is designed to teach your 10 year old physics by constructing experiments.
Learning these physics concepts at a young age will plant the engineering seed in to your child's mind and prepare them for adult life.
Not only is this kit fun to experiment with but it's a great learning experience.
With cars and crash tests you can quite confident that there's something here that will provide hours of play.
The STEM Physics Building Set can be purchased from Amazon.com here
11. Lego STEM Robot Building Set
This lego robot kit seemingly made it into the final of the toy of the year award 2018.
With five robot models to build from such as a dancing robot, robot cat and guitar which is all controlled from a mobile app. 
However you will need to supply your own mobile device to download and install the app for this kit.
Using electronic sensors such as distance and tilt sensors, this kit could spark your 10 year old's interest in robotics, "internet of things" and automation.
Not to mention gaining the experience and confidence needed in constructing these kinds of projects at home.
The Lego STEM Robot Building Set can be purchased from Amazon.com here
10. Lego NASA Mars Curiosity Rover
The NASA Lego mars rover may be one of the most expensive construction toys for 10 year olds in this list but possibly one of the most interesting.
Designed by a real Curiosity rover engineer, this 295 piece Lego set incorporates a robotic arm for retrieving objects and wheel suspension.
This kit indicates that it has cameras but it looks like these cameras are only made from Lego and don't function as cameras.
If you were wanting camera functionality and sensors then it's possible to build Arduino or Raspberry Pi projects on top of this model.
This lego kit was discontinued in 2014 and this reflects on it's current price.
The Lego NASA Mars Curiosity Rover can be purchased from Amazon.com here
9. Wooden Solar Car Model Kit
If you're looking for something that isn't going to break the bank then how about this solar powered wooden car!
Solar powered construction toys are a great way to teach your 10 year old renewable energy.
No batteries are needed in this kit and will help understand some basic engineering while developing manual dexterity.
I wouldn't expect my son to pull this model from the shelf very often or even last more than a few hours.
However it would be ideal entertainment for a weekend away or a day with the babysitter for example.
The Wooden Solar Car Model Kit can be purchased from Amazon.com here
8. All-Terrain Programmable Coding Robot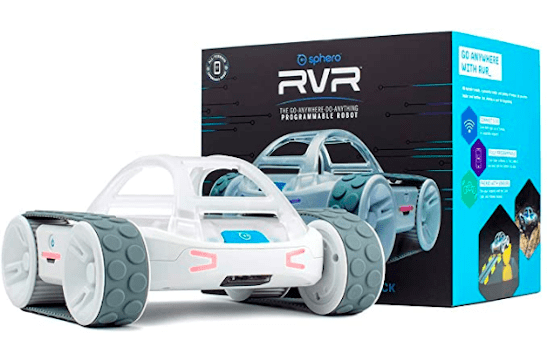 This robot doesn't need to be constructed physically and is ready to go out of the box.
However with this model, the construction is needed to be done virtually.
The user is expected to create a software program from an app for controlling this robot.
Coding can be done from simple block-like components which are ideal for 10 year old's and beginner's.
Not only that though, more advanced coding can be done and so this makes an ideal construction toy to develop some serious programming skills.
This kit can be used "as-is" but it also makes an ideal platform for building Arduino and other open source development projects on.
This "hacker" mentality is supported by the manufacturer and not only will this robot teach coding but has potential for electronics hardware too!
If you're looking for a toy that both you and your 10 year old can work on together to create maker projects with, then this could be it.
The All-Terrain Programmable Coding Robot can be purchased from Amazon.com here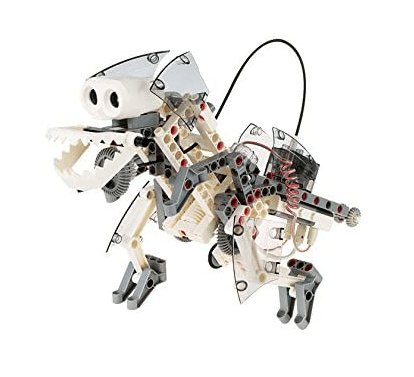 If you're looking for longevity in a construction kit then how about this?
Eight different robots can be built with the 230 pieces provided and so I wouldn't expect my 10 year old to loose interest quickly with this.
You will need to supply your own mobile device as it's also programmed via an app!
The robots can perform different actions when the ultra sonic sensor senses objects in front of it.
I wouldn't expect this kit to provide much opportunity for developing software programming skills but makes a great introduction to the technology.
However to make up for that shortfall is certainly done with the physical building of the robots.
The hands-on construction of the toys will provide some excellent robotics construction experience.
If you're after something that's heavy on the physical construction and light on programming then this kit could be for you.
The Robotics Science Kit can be purchased from Amazon.com here
6. Apitor SuperBot 18-In-1 Robot Kit
This may look like another robot construction toy that's controlled via a mobile app but this one has lots of potential.
Not only does the Apitor SuperBot have 18 different models to build, but it's compatible with big brand building blocks too!
Because of this, the possible attention span of this kit is huge!
If you're looking for something to keep your 10 year old entertained for the maximum time possible then you wouldn't be disappointed with this one.
The app used to control the robot uses block-like components which makes it ideal for beginner's and children.
Once the robot is built, it's time to develop the app to control it!
And for under $100 this kit is a personal favorite of mine from this list.
5. UBTECH JIMU Robot Overdrive Kit
Next up in this list we have the award winning  UBTECH JIMU.
JIMU is yet another robot that's controlled from app as these construction toys seem to very popular.
The app is a block-like building app too so this toy will introduce both hands-on engineering as well as software development to your 10 year old.
Although this kit only offers two official robots to build from, the JIMU can also be constructed into anything the imagination brings.
4. STEM Sphero Mini App-Enabled Programmable Robot Ball
Other than standing on tiny pieces of plastic parts from a construction kit, there's nothing worse than loosing these pieces forever.
And so if you're looking for a 'software only' STEM construction toy for 10 year olds then how about the Sphero robotic ball.
No physical pieces are needed to build this project as all it consists of is a ball and the real construction takes place in software development to control it.
Lot's of fun can be had with the Sphero such as creating and manoeuvring around obstacle courses or how about a game of bowling?!
The software development side of things looks like it can suit a wide age range as it supports simple drag-and-drop block-like bricks..
but also supports more serious coding with Javascript and Swift programming languages.
The STEM Sphero Robot Ball can be purchased from Amazon.com here
3. Playz Advanced Electronic Circuit Board Engineering Experiments
Electronic Engineering is a dying trade and the world needs your help to spark this important interest back into the younger generation.
With electronics products today now built faster and cheaper by robots, it's more economical to replace electronic devices than it is to repair.
And for this reason the electronics trade is fast becoming a black art.
With this construction kit you will certainly inspire your 10 year old that will last a life time.
With emerging trends such as "internet of things" and home automation, electronic engineering will serve your child well in the job market of the future.
This kit will teach basic electronic components and even introduce radio construction.
If the electronics alone doesn't capture your child, I'm certain the radio circuits will do the job.
The Electronic Circuit Experiments Kit can be purchased from Amazon.com here
2. Piper Computer Kit: Build Your Own Computer!
How about this construction toy for 10 year olds.. build your own computer!
First off, this kit will teach your child the basics of how a computer is put together.
I imagine the knowledge and skills that is acquired here could potentially spark interest in repairing personal computers and laptops in the future.
But this is just the beginning.
Once this computer is built and working it takes your child through various projects with increasing difficulty.
These projects include writing programming code to control real-world electronics!
This is the basics of how "internet of things", home automation and robotics start.
There's a huge demand in the job market right now for Linux experience and Python programming skills.
This kit could potentially kick-start your child's career and eventually earn a very nice salary.
The Piper Computer Kit can be purchased from Amazon.com here
1. Remote Control Car Kit
With this remote controlled tracked car kit it's possible to build three different models including a tank and robot.
Although your 10 year old can quite easily construct something unique which increases the longevity of this toy as well as encourage creativity.
If you're looking for a budget toy then this one could be it as it's one of the least expensive kits in this list.
Your child will improve on problem solving and logical thinking which makes this toy another great learning tool for children.
The Remote Control Car Kit can be purchased from Amazon.com here
In this post I covered the best STEM construction toys for 10 year olds that I could find available on Amazon.
Toys such as these can be an important learning tool for children as they provide hands-on experience and great fun at the same time.
If you're not sure what to buy your 10 year old as a gift this year then why not make it one of these?!